Artwork
Every room needs a focal point, and artwork is one of the best ways to instantly draw the eye and create a masterpiece in your home. We stock an array of different wall art pieces in a manner of different shapes and sizes at our showroom.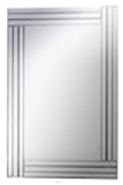 Lincoln Mirror
Size: 80X120cm
SKU: AC29718
Material: Glass, beveled mirror edge
Colour: Clear
Price:
Was £49 Now £39
Can't find what you're looking for?

We've got plenty more stock for sale at our showroom in Surrey! Contact us today for more information.
Plus, don't forget to sign up to our newsletter to be notified of our upcoming promotions and events.